25 Jan

10 stadiums to experience before you die

Stadiums are much more than a place for sports and fast food.
Scroll down and read our take on 10 stadiums to experience, and why they are worth visiting.
---

Photo Credit: MGOBLOG
The Big House
Michigan Stadium
Located: Ann Arbor, Michigan, United States
Established: 1927
Capacity: 107.601
Why you need to experience this
The largest stadium in the US and second largest in the world. The only stadium with higher capacity is the North Korean stadium Rungrado.
Since November 8, 1975, every home game has drawn at least 100.000 fans to the stadium and is on an active streak of more than 200 contest. This attendance number is one of the reasons Michigan has one of the best atmospheres in the NCAA – a college we would like to play for.
Visit this stadium on a Saturday afternoon in the fall and remember to bring a black and yellow shirt!
Did you know?
Michigan Stadium has the record for most attendance for a college and NFL football match. The record was set on September 7, 2013, with 115.109 people attending.

---

Photo Credit: Colgadosporelfutbol.com
The Yellow Wall
Westfalenstadion
Located: Dortmund, Germany
Established: 1974
Capacity: 81.360
Why you need to experience this
Official known as Signal Iduna Park and home stadium of Borussia Dortmund.
It's given the nickname "Yellow Wall" because of their free-standing grandstand with a capacity of 25.000. This gives Westfalenstadion one of the most intense atmospheres you can find in European soccer which also lead to an unbeaten home streak in the UEFA Champions League in 2012-13.
This is an atmosphere you need to experience in real life. And if you ever plan to visit and got kids try not to stand at "The Yellow Wall" it can be a bit overwhelming.
Did you know?
With a free-standing grandstand capacity of 25.000, it is the largest Europe. So bring some friends and come see the Borussia Dortmund play.

---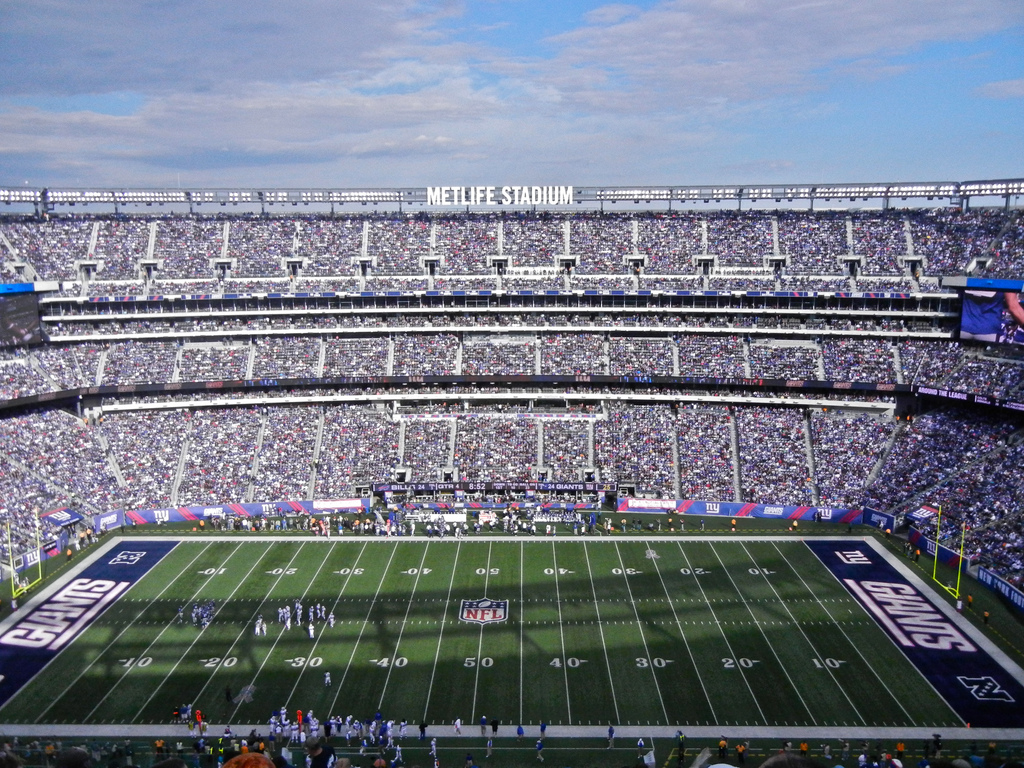 Photo Credit: Stadiums of pro football
Most Expensive Stadium
MetLife Stadium
Located: East Rutherford, New Jersey, United States
Established: 2010
Capacity: 82.500
Why you need to experience this
Located in New Jersey and home stadium for the New York Giants and New York Jets.
It's the most expensive stadium ever built at a cost of $1.6 billion. Even though it is the most expensive stadium it is only the second largest stadium in the NFL – if you're looking at seating capacity.
This stadium sets a new standard for venue excellence state of the art technology, comfort and amenities. And this is one of the reason it's a must see stadium so if you're ever close to New Jersey make sure to swing by MetLife Stadium and see this incredible architecture.
Did you know?
It is the only stadium in the NFL which is shared by two teams and in a matter of hours, it can be transformed from a New York Giants stadium to a New York Jets stadium. Because of that MetLife Stadium is hosting 20 NFL games each season.
If you got 10 minutes to spare watch this video showing exactly how they transform MetLife stadium from a Giants to a Jets stadium.
---

Photo Credit: Wikimedia Commons
Architectural Wonder with a History
Olympiastadion
Located: Western-Berlin, Germany
Established: 1936
Capacity: 74.475
Why you need to experience this
Build by German engineers for hosting the Summer Olympics in 1936. The stadium has an astounding record attendance of 100.000 people. It was later reconstructed and now has a capacity of 75.000. It's recommended by fans to be seated for the beginning of the game to enjoy the singing. It's also recommended to get a guided tour where you'll get to see the VIP booths.
Having been awarded with the IAKS All Time Award for architectural design and operational structure, and for focusing on sustainability and social aspects. This stadium grasps all the reasons for a visit. Last but not least, they are the home stadium for Hertha BSC and on some occasions the German national football team
Did you know?
A Guinness Record has been set by making the longest children's painting. The painting covered all 75.000 seats with an equal length of 37 kilometres!
---

Photo Credit: MPR News
Purple Rain
U.S. Bank Stadium
Located: Minneapolis, Minnesota, United States
Established: July 2016
Capacity: 66.665
Why you need to experience this
Located in Minnesota and home to the Minnesota Vikings U.S. Bank Stadium is one for the fans. Even though the Vikings did not achieve the success they wanted on the field in the 2016 season, they still gave their fans something to cheer for – a world class venue to watch the match from.
Make sure to buy a 90 minute guided tour at the stadium where you'll see the suites, stadium art collection and the best part…. the locker room of the Minnesota Vikings.
Go Vikings!
Did you know?
U.S. Bank Stadium has also been chosen to host summer X-Games for the next two years, so why not plan your visit at the same time?

---

Photo Credit: Fandom – Boca Juniours
Chocolate Stadium
La Bombonera
Located: La Boca, Buenos Aires.
Established: 1940
Capacity: 49.000
Why you need to experience this
First of all, this stadium has absolutely incredible architecture. It's built right in the neighbourhood  of La Boca. Besides the beautiful architecture, the acoustics is fantastic, making the already noisy La Doce, "the 12th man", even more fearsome. The rivalry between the home team Boca Juniors and River Plate is worldwide known for their Superclásico games, which is one of the most fierce clásico games worldwide.
Did you know?
La Bombonera was built between 1938 and 1940, and, as the legend goes, received its name because the architect suddenly realised the similarities between the stadium and a chocolate (bombon) he was eating.
---
Photo Credit: Gridiron Stadium Network
Can you hear me?
Arrowhead Stadium
Located: Kansas City, Missouri, United States
Established: 1972
Capacity: 76.416
Why you need to experience this
Home to the Kansas City Chiefs of the National Football League and the loudest fans in the world. September 29, 2014, is the historical date where Kansas City Chiefs achieved the loudest crowd roar at a stadium. The roar reached 142.2 dbA and is the loudest crowd roar in the world.
It's not only the fans who are doing a good job, the Chiefs have played some pretty solid football this season with a 12-4-0 score.
So plan your visit when Kansas City Chiefs is playing at home.
Did you know?
At 140 dbA even short term exposure can cause permanent damage. So remember some earplugs! 
---
Photo Credit: Leon – Flickr
Where Nature and Sport Meets
Estádio Municipal de Braga
Located: Braga, Portugal
Established: 2003
Capacity: 30.286
Why you need to experience this
The stadium was built in 2003 to serve as home court fort Fc Braga. It was the fourth most expensive stadium built in 2004 for the Euro Worldcup out of ten new stadiums.
The surroundings around this stadium are majestic. The stadium is built almost in harmony with the mountainside, with one end covered in granite wall, while the other being wide open. With an open end, you will see a wonderful view beyond the valley.
Did you know?
The Braga Municipal Stadium received the Chicago Athenaeum International Architecture Award for best new global design in 2006. Even if you're not that into soccer, this stadium is well worth the trip.
---
Photo Credit: Essma
Home of English Football
Wembley Stadium
Located: London, England
Established: 2007
Capacity: 90.000
Why you need to experience this
Wembley Stadium opened in 2007, after being built on the site of the original Wembley. The stadium is the largest in UK, and the second largest in Europe. It's home for several big soccer games in England. The iconic cup tournament FA cup's semifinals and final, League Cup final, FA Community Shield and the decisive Championship Playoff Final. When you go to Wembley, expect nothing less than being blown away.
Did you know?
The Wembley Arch is the world's longest single span roof. It has a span just over 300 meters and a height of 135m! Because of its size there are beacons attached to warn low flying planes.  
---
Photo Credit: Stadia Magazine
The G
Melbourne Cricket Ground
Located: Yarra Park, Melbourne, Victoria
Established: 1853
Capacity: 100.024
Why you need to experience this
The Melbourne Cricket Ground (MCG), is one of the oldest sporting grounds in the world, while being the 10th largest stadium worldwide. It was built in 1853, only 20 years after the city Melbourne was founded. It has been home to Australian football since 1859, and later cricket, while hosting the U.S Army during world war II.
This stadium is described as the heart of the city. It has been the hub for many events through the years and contains a tremendous amount of history. The MCG also invite fans to enjoy a movie in their open air cinema. Which by the way is Australias largest video screen.
Did you know?
The ground for MCG was built when the Melbourn Cricket Club was being forced to move by the government because Australia's first steam train was to pass through.
---
Thank you for reading!
Sincerely,
Tablebox Team
---